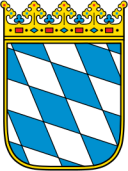 I.
Any translator or interpreter may be publicly appointed and generally sworn-in if the person

is a German citizen or equivalent to a German citizen;
is of legal age;
lives in orderly economic conditions;
has successfully passed the examination pursuant to the directives issued by the State Ministry for Education and Culture, or has successfully passed an equivalent examination, as determined by the State Ministry for Education and Culture,
has not been subjected to any court-issued penalty or other measure which would indicate his unfit status as a publicly appointed interpreter (translator)

Persons shall be deemed equivalent to German citizens in the sense of § 3 Sect. 1 Letter a DolmG if they are citizens of the European Union (§ 12, 17, 43, 49 EU Agreement) and members of the European Economic Area Countries (§ 31 Agreement of European Economic Area dated 2nd May 1992). Such equivalency may also result from other legal directives (see § 16 of the Law on Legal Status of Displaced Foreign Nationals on the Territory of the Federal Republic of Germany) or from international agreements (such as the Association Agreement).

The application for public appointment and swearing-in must include the following information:

First and last name of applicant, plus job description
Residential address, plus telephone number and internet addresses, if desired, and professional domicile;
Citizenship;
Statement whether or not the appointment shall be made as translator or interpreter, and in what language(s);
Statement regarding the applicant's economic situation;
Statement regarding court-issued penalties.

In addition, the application shall include:

A brief curriculum vitae (incl. first and last name of father, first and last name (and maiden name, if any) of mother, marital status, and first, middle and maiden name of spouse, if any);
A certified copy of the examination certificate, the examination document, or the letter of accreditation;
A police certificate of good-standing (incl. document type "0" for presentation to government authority).
II.
The application shall be addressed to the President of the Regional Court. For applicants who reside or are domiciled in Bavaria, the cognizant authority is the President of the Regional Court in whose district the applicant either resides or has his domicile. For all other applicants, the cognizant authority is the President of the Regional Court in Munich I.
III.
Pursuant to §§ 74 ff VwGO, the rejection of general appointment and swearing-in may be appealed before the Administrative Court. Details on form, deadline and jurisdiction may be found in the legal remedy section of the respective notification of rejection.